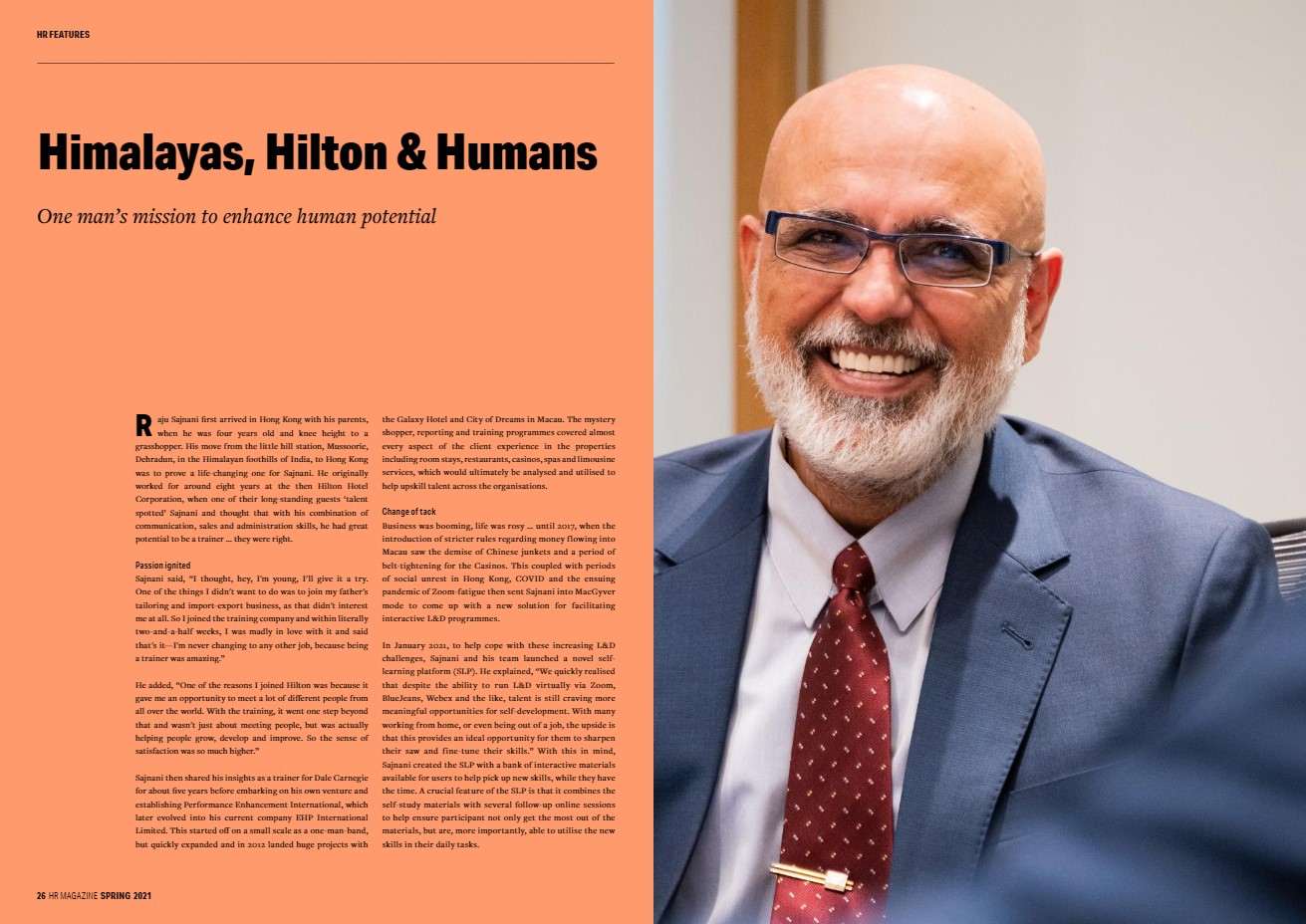 One man's mission to enhance human potential
Raju Sajnani first arrived in Hong Kong with his parents, when he was four years old and knee height to a grasshopper. His move from the little hill station, Mussoorie, Dehradun, in the Himalayan foothills of India, to Hong Kong was to prove a life-changing one for Sajnani. He originally worked for around eight years at the then Hilton Hotel Corporation, when one of their long-standing guests 'talent spotted' Sajnani and thought that with his combination of communication, sales and administration skills, he had great potential to be a trainer … they were right.
Passion ignited
Sajnani said, "I thought, hey, I'm young, I'll give it a try. One of the things I didn't want to do was to join my father's tailoring and import-export business, as that didn't interest me at all. So I joined the training company and within literally two-and-a-half weeks, I was madly in love with it and said that's it—I'm never changing to any other job, because being a trainer was amazing."
He added, "One of the reasons I joined Hilton was because it gave me an opportunity to meet a lot of different people from all over the world. With the training, it went one step beyond that and wasn't just about meeting people, but was actually helping people grow, develop and improve. So the sense of satisfaction was so much higher."
Sajnani then shared his insights as a trainer for Dale Carnegie for about five years before embarking on his own venture and establishing Performance Enhancement International, which later evolved into his current company EHP International Limited. This started off on a small scale as a one-man-band, but quickly expanded and in 2012 landed huge projects with the Galaxy Hotel and City of Dreams in Macau. The mystery shopper, reporting and training programmes covered almost every aspect of the client experience in the properties including room stays, restaurants, casinos, spas and limousine services, which would ultimately be analysed and utilised to help upskill talent across the organisations.
Change of tack
Business was booming, life was rosy … until 2017, when the introduction of stricter rules regarding money flowing into Macau saw the demise of Chinese junkets and a period of belt-tightening for the Casinos. This coupled with periods of social unrest in Hong Kong, COVID and the ensuing pandemic of Zoom-fatigue then sent Sajnani into MacGyver mode to come up with a new solution for facilitating interactive L&D programmes.
In January 2021, to help cope with these increasing L&D challenges, Sajnani and his team launched a novel self-learning platform (SLP). He explained, "We quickly realised that despite the ability to run L&D virtually via Zoom, BlueJeans, Webex and the like, talent is still craving more meaningful opportunities for self-development. With many working from home, or even being out of a job, the upside is that this provides an ideal opportunity for them to sharpen their saw and fine-tune their skills." With this in mind, Sajnani created the SLP with a bank of interactive materials available for users to help pick up new skills, while they have the time. A crucial feature of the SLP is that it combines the self-study materials with several follow-up online sessions to help ensure participant not only get the most out of the materials, but are, more importantly, able to utilise the new skills in their daily tasks.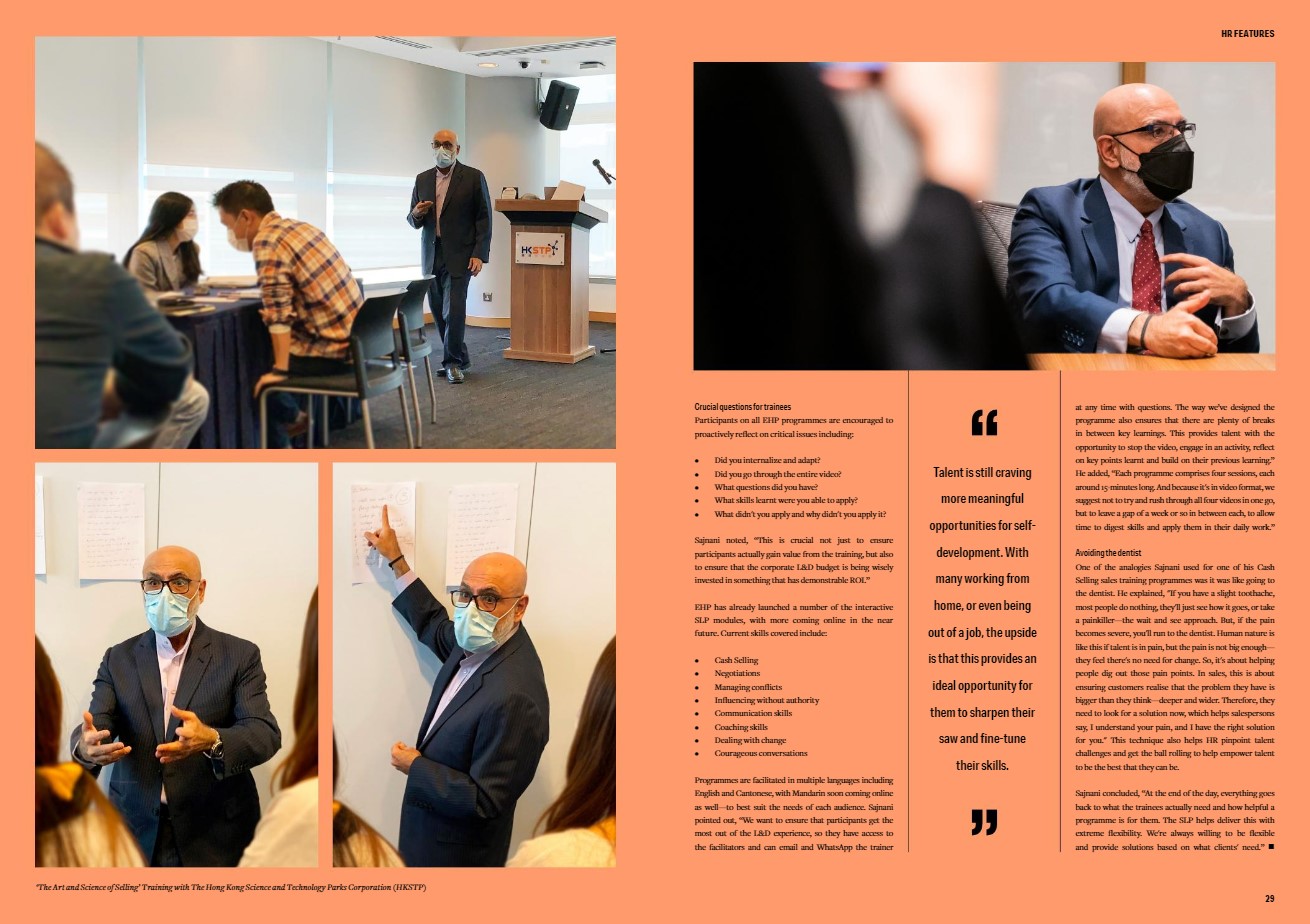 Crucial questions for trainees
Participants on all EHP programmes are encouraged to proactively reflect on critical issues including:
Did you internalize and adapt?
Did you go through the entire video?
What questions did you have?
What skills learnt were you able to apply?
What didn't you apply and why didn't you apply it?
Sajnani noted, "This is crucial not just to ensure participants actually gain value from the training, but also to ensure that the corporate L&D budget is being wisely invested in something that has demonstrable ROI."
EHP has already launched a number of the interactive SLP modules, with more coming online in the near future. Current skills covered include:
Cash Selling
Negotiations
Managing conflicts
Influencing without authority
Communication skills
Coaching skills
Dealing with change
Courageous conversations
Programmes are facilitated in multiple languages including English and Cantonese, with Mandarin soon coming online as well—to best suit the needs of each audience. Sajnani pointed out, "We want to ensure that participants get the most out of the L&D experience, so they have access to the facilitators and can email and WhatsApp the trainer at any time with questions. The way we've designed the programme also ensures that there are plenty of breaks in between key learnings. This provides talent with the opportunity to stop the video, engage in an activity, reflect on key points learnt and build on their previous learning." He added, "Each programme comprises four sessions, each around 15-minutes long. And because it's in video format, we suggest not to try and rush through all four videos in one go, but to leave a gap of a week or so in between each, to allow time to digest skills and apply them in their daily work."
Talent is still craving more meaningful opportunities for self-development. With many working from home, or even being out of a job, the upside was that this provided an ideal opportunity for them to sharpen their saw and fine-tune their skills.
Avoiding the dentist
One of the analogies Sajnani used for one of his Cash Selling sales training programmes was it was like going to the dentist. He explained, "If you have a slight toothache, most people do nothing, they'll just see how it goes, or take a painkiller—the wait and see approach. But, if the pain becomes severe, you'll run to the dentist. Human nature is like this if talent is in pain, but the pain is not big enough—they feel there's no need for change. So, it's about helping people dig out those pain points. In sales, this is about ensuring customers realise that the problem they have is bigger than they think—deeper and wider. Therefore, they need to look for a solution now, which helps salespersons say, I understand your pain, and I have the right solution for you." This technique also helps HR pinpoint talent challenges and get the ball rolling to help empower talent to be the best that they can be.
Sajnani concluded, "At the end of the day, everything goes back to what the trainees actually need and how helpful a programme is for them. The SLP helps deliver this with extreme flexibility. We're always willing to be flexible and provide solutions based on what clients' need."
Read this article on HR Magazine. More articles here.